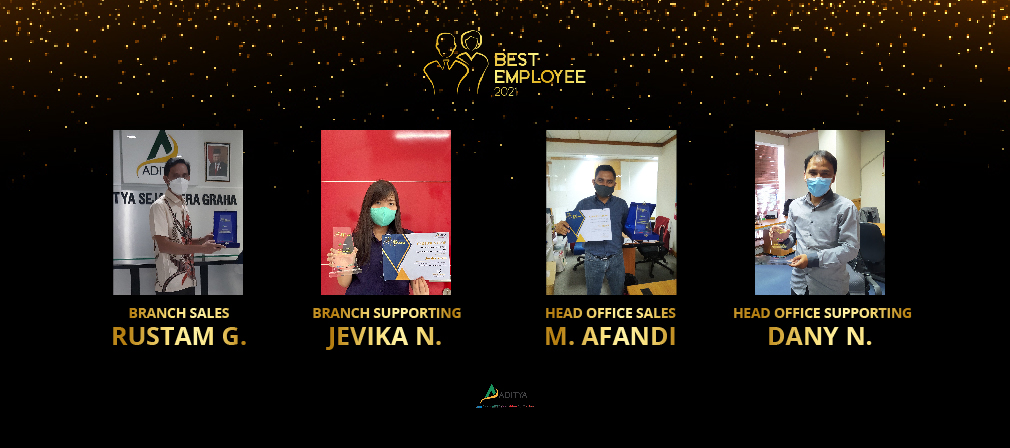 News, 15 March 2022
Winners of Aditya Group's Best Employee 2021
Jakarta, March 14th 2022 – ASG Best Employee of The Year is an award given to Adityan considered having great performance, exceeding expectations according to yearly Performance Appraisal. There are several categories of ASG Best Employee 2021, namely: Head Office Sales, Branch Sales, Head Office Supporting, & Branch Supporting categories.
The selection was carried out in 4 stages, starting with the Performance Appraisal Selection, then the Department Head Selection, furthermore the Committee Selection and last but not least the Final Selection Stage, interview by ASG Board of Directors. The Final Stage also involves the participation of all Adityan through Live Voting. From the whole process, 11 finalists were selected
The Final Stage was held live on February 28th, 2022, and 4 winners were selected from each category :
M. Afandi, Best Employee Category Head Office Sales

Rustam Gomulia, Best Employee for Branch Sales Category

Dani Nugraha, Best Employee for Head Office Supporting Category

Jevika Novia, Best Employee for Branch Supporting Category
PT Aditya Sarana Graha congratulates all winners for their achievements. Hopefully this could be a motivation for Adityan to do their best.
Greetings and stay healthy
#PULIH&BANGKITKEMBALI2022